Chiang Rai Village Project
According to a recent research study carried out by the OECD and UNESCO, Thailand finds itself at a crossroads. In less than a generation, it has moved from a largely agrarian low-income society to an upper middle-income country and a key contributor to the economic development of the Southeast Asian region. At the same time, the country has enacted major education reforms and invested a significant proportion of its national wealth into educating its youngest citizens. Overall participation rates in the school system are now improving, particularly at the pre-primary and primary levels, and a large number of youth continues on to higher and professional education.
However, not all sections of society have profited equally from this expansion. Access and performance are particularly poor among children from disadvantaged backgrounds and those who live in rural areas. Huge disparities still remain and the benefits of the economic progress have not been equally shared by all children in Thailand.  This is particularly true for the children of ethnic minorities, migrants, refugees and the very poor who mainly live in remote or very poor areas, often along Thailand's borders with Cambodia, Lao PDR, Malaysia and Myanmar. Children belonging to these groups often are not registered at birth and therefore are deprived of many rights such as access to healthcare and education.
Our Holistic Village Model Approach
Village by village, the Foundation ensures that children are given access to school either by providing transportation to the nearest public school or by building school infrastructure in the most remote villages. Kitchens and canteens are also built at the school premises to ensure that the children receive one meal per day at school. Where needed, we build Clean Water Systems for the school and village. In one village we have developed a School Farm which has provided the school with all the needs in vegetable crops and fruits. We are developing this also in another village and wish to expand this to all the villages. Where we have built a school, we also build school dormitories for neighboring village children and teacher accommodations.
Schools are run by the Thai government who also provides and pays for the teachers. In two primary schools we have also built libraries and computer facilities. In addition, the Foundation renovates village preschools, adding sanitation facilities and kitchens and canteens to preschools and we also build school playgrounds. Finally, we wish to promote agriculture and income generation programs for the poorest families in the villages. The long-term aim is to create strong, self-sufficient village communities. We only work with communities that demonstrate motivation and cooperation. In our construction works, villagers provide labor, which also enables them to learn new construction skills, and the women provide meals for workers.
The villagers are also involved in levelling and preparing the land for construction and in the maintenance of school buildings. We regularly visit villages and schools throughout the year to oversee the progress of children at school.
OUR RESULTS AND IMPACT
Our programs and results are as follows:
Scholarship Program – 1.073 students coming from 14 villages in Chiang Rai and Chiang Mai provinces were supported in various schools from Kindergarten to University providing them shoes, uniforms, backpacks, school supplies, toothbrushes, soap, towel, transport to school, medical checkups, one meal in school, teacher salaries when necessary;
Outcomes since the Inception of the Program – The project was launched in 2006 and has reached over 3.000 students.  In 10 years we completed 38 infrastructures projects, namely: 3 Primary Schools, 3 Teacher Accommodations buildings, 1 Secondary School, 3 Kindergartens, 7 Dormitories, 3 Libraries, 3 Computer Rooms, 5 Preschools, 2 Playgrounds, 1 Arts and Music Classroom Building, 3 Canteens, 3 Clean Water Systems, and 1 Health Post.
Agriculture and Income Generation Program – we teach students and villagers to cultivate the land for their own consumption and needs of the school. By the year end we will have completed two school farms.  We have funded on income generation program for coffee plantations and launched in 2013 a pilot program for other income generation activities that match the villagers' desires and available resources.
How You Can Help
5 Euro provides 1 backpack
50 Euro provides transportation to school for one full year for one child
40 Euro provides for a full new set of 3 uniforms, belt, socks, and shoes for one child
80 Euro provides lunch meals for one year for secondary and professional school students
190 Euro funds a scholarship for one child for one full year (including uniforms, meals, transport to school, school supplies, and medical check-ups)
2,300 Euro covers a 12-year scholarship from Primary to end of Professional School for one student
6,000 Euro provides one School Classroom
36,000 Euro provides one Six Classroom Primary School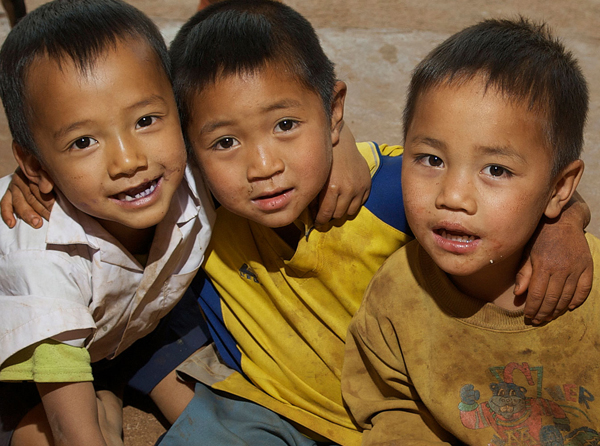 ---
Chiang Rai Village Project Presentation
---
Jaurdej from Chiang Rai Vocational College, Thailand
Akha Hill Tribe Village in Northern Thailand